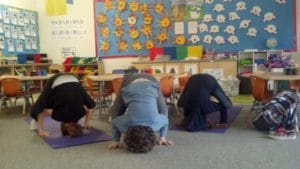 We are excited to announce that the KFS Summer camp is just around the corner! This year we will be offering both Lower and Upper Elementary camps. This camp will be individualized to meet your children exactly where they're 'at' in life. Both groups will be packed with activity, adventure and the unique personal growth that comes from learning to be part of a group.
The camp will focus on the experiences our children need to navigate life at their level. We focus on school recess skills, as well as developing ways to be an active participant in the classroom. For some children, we pay attention to the physical activity component of recess games, whereas for others, we focus on keeping recess games fun and fair. KFS Summer Camp is fully devoted to customizing each camp to the needs of the children who attend.
Through a range of activities, such as; cooking, crafts, grocery shopping, hiking, animal care and imaginative play, we work on developing life skills. Learning how to take turns, stop something when they're asked, take care of others, advocate for themselves and learning tools for self regulation are all part of what we set out to achieve.
A typical day of KFS Summer Camp includes;
9am Arrival and social time
9:10am Yoga

Relaxation and breathing, followed by YEAS Yoga practice aimed at developing awareness of the body/mind connection.

9:30am Morning Meeting

Discuss the schedule, icebreaker activities, general "check in."

10am Physical Activity/Recess Skills

Basics of soccer, foursquare, tag etc. at Lake Park.

11:30am Prepare for lunch

Campers set the table and prepare to eat as a group.

12 noon Eat lunch together

Lunch is about socially engaging around the table. All campers and leaders remain at the table for the full half hour, learning to wait, make polite conversation and participate in a group plan.

12:30pm Rest Time/Read Aloud

Kids have a chance to recuperate from the busy morning by listening to a story. Leaders ask comprehension questions and encourage open discussion on the themes of the book. All books are chosen to be relevant to the behavioral needs of the campers.

1pm Activity

E.g. Cafe day: campers take $5 to a cafe and have to figure out what they can buy within their budget. They are expected to look the cashier in the eye and politely ask for what they want.

2:30pm Yoga/Breathing
2:45pm Closing Circle

A chance for kids to express the highlights, lowlights and lessons learned during the day.
This schedule is just an outline, every day is slightly different. One day per week, we run a cooking class – giving the kids a chance to see a recipe through from idea to completion. They vote on what to make, then create a shopping list and we go to the grocery store as a team. After finding the ingredients, they make the meal in the kitchen and serve it to each other. We also typically have a beach day, where we learn the skills of taking public transit and the time management to fit our activities in within our schedule. Oh – did we forget to mention sandcastles? Beach day is a great time to throw off all this serious business and have some fun!
We know that summer for the kids doesn't always mean summer for the parents so we are offering extended care until 5pm.