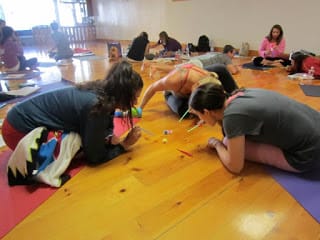 Our next YEAS Yoga training is coming up on June 26th, at Sweet Pea's Yoga Studio in Chicago, IL. The training goes from 8-5pm, and is packed full of an excellent combination of learning and doing. At the YEAS training you can expect:
(1) Community 
You will learn with, and from, people with whom you share similar goals. You are all there for a reason, and that is, making yoga available to all children – regardless of their abilities. Come and make friends, network and join a community of people with a common passion.

(2) Theory 
We won't just tell you what to do, we will share why we do things this way. There is no use completing a course when you're unaware of the theory behind the practice. You will learn why kids do things the way they do, as well as ways in which you can give them the understanding they need to succeed.

(3) Practical skills
Of course, you'll learn how to teach yoga to kids with differing abilities! Please know in advance that this course is targeted to children with special needs, so the classic "yoga" portion will rely on your prior knowledge. We are not "airy fairy" about yoga, instead we are very practical and rooted in physical, concrete experiences.

(4) Experience based practice
You want to know what works? We know what works because there's over a decade's worth of work on this program. Literally hundreds of Bay Area children have experienced yoga through YEAS, and we are keenly aware of what works – and what doesn't!

(5) Open Q&A
Ask questions in real time. The training is small enough for you to ask those burning questions as the action unfolds. If you still have questions afterwards, we will make time to answer you.

For more information see the course overview or training schedule or just contact us today at info@yeasyoga.com.